SUBLIMINAL SOFTWARE (FREE)
This simple and free subliminal software displays affirmations on your computer screen at either conscious or subconscious levels. While the effectiveness of subliminal messages has been debated by some people, the conscious-level capability of this program makes it a useful tool for self development either way. Great for affirmations, reminders, and other mental conditioning!
[NOTE: This subliminal software is something I made for fun. Be sure to try my free MC2Method as well]


To get started, please watch this YouTube demonstration of the software's use.
VERSION #1 SCREENSHOT (displays text messages that you define):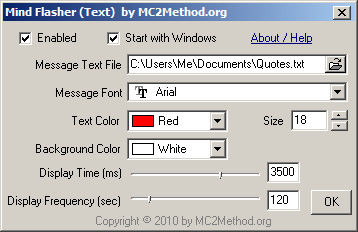 VERSION #2 SCREENSHOT (displays pictures/images that you choose):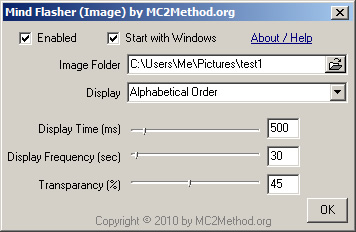 Other information:
Works with Windows 95, 98, 2K, ME, XP, Vista, 7 and 8.
100% free, with no ads or tracking.
Runs in your system tray.
Very easy to use.
DOWNLOAD INSTRUCTIONS:
If you'd like to download the text version, click here.
If you'd like to download the image version, click here.
Instructions for adding text affirmations and/or images are provided in this YouTube video.

To uninstall anytime, simply delete the downloaded files. No other changes were made to your computer.
If you need assistance, please contact us.